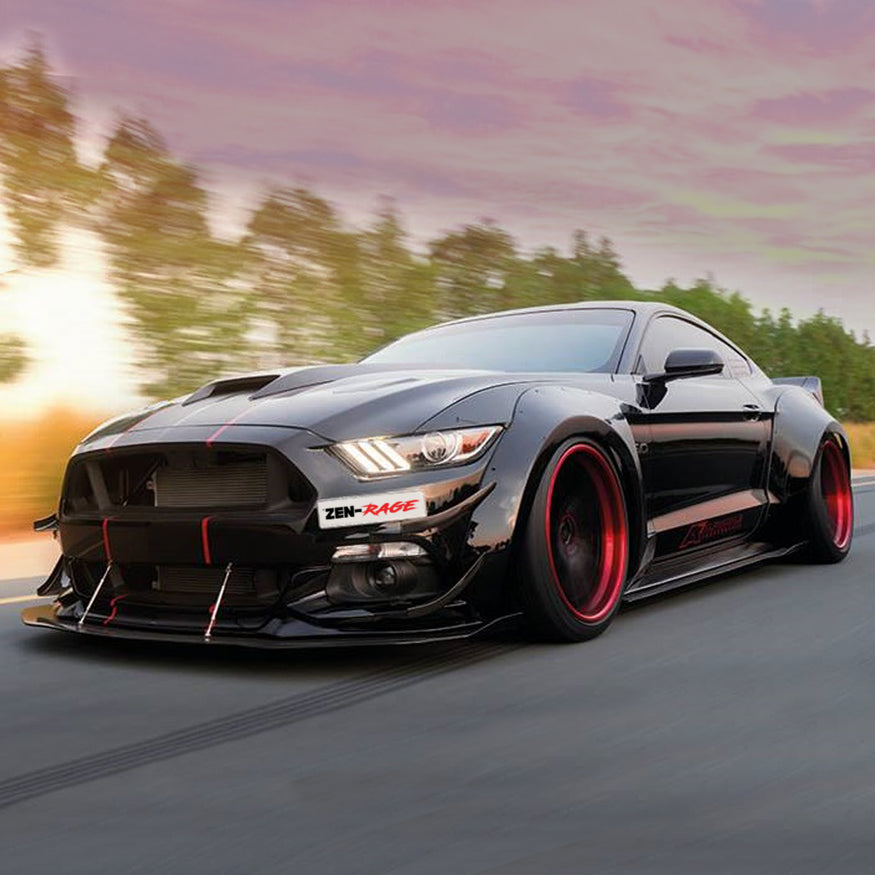 Why get a valvetronic exhaust?
A valvetronic exhaust gives you the ability to switch the sound your car exhaust makes between a quieter sounding car and a powerful sports car sound. Our amazing valvetronic exhausts are custom built for your car to allow the sound of maximum output with zero drone.
"Luxury must be comfortable. Otherwise it is not luxury." -Coco Chanel
A valvetronic exhaust is an amazing type of exhaust that allows you to control the sound of your car exhaust by communicating with the OBDII module to leverage a vacuum source in the engine to open and close the exhaust valve. In addition to sounding incredible, turbocharged cars owners can also see increased performance with a valvetronic exhaust installed.
What Is a valvetronic exhaust?
Testimonials
Exhaust installed on mustang gt 5.0 coyote 2017 coupe Exceptional sound Thank you zen rage
The ZEN-Rage exhaust was a perfect fit with improved sound and performance. I had returned a competitors product which did not fit as advertised. Great look and sounds great, especially in the higher rpm range and leaves that great popping sound.
The titanium exhaust looks like a piece of jewelry.
Fun fact, my huracan now sometimes throws flames.
about zen-rage
What Zen-Rage brings to the market in the Exhaust Symphony System is a hand built custom valvetronic exhaust which integrates a Bluetooth remote control module that you can operate from inside your car. With its four modes of operation, you can choose between.
ZEN - With the valves closed, this results in a quiet and peaceful / comfortable driving experience both inside and outside the car.
RAGE - As the name implies, with the valves fully open, this releases the sound and sensation of raw power as nature intended.
AUTOMATIC - In this mode the valves are closed when you start the car and will automatically open the valves fully at 3,000 RPM. Depending on where you live, this may be the best mode to keep the peace in your neighborhood, especially when leaving early or returning home after dark.
DYNAMIC - In Dynamic mode the valves are closed when you start your car, and when the engine reaches 2,700 RPM the valves will open and continue to open more as the RPM increase.
Being a sports car owner, or just a car enthusiast you may already be familiar with the term valvetronic exhaust, but for those who want to know how does a valvetronic exhaust work, the Zen-Rage custom hand-built exhaust product line, works through Bluetooth technology by connection to the OBDII module. This enables instructions to be sent to the exhaust valve module to either open or close the valves using the engine vacuum. When the valves are open, your car will not only sound like a race car, but you will also have more power at your disposal, and when the valves are closed peace and order is restored.
Our valvetronic exhaust system allows you to intelligently customize your driving experience by selecting the right mode so the exhaust will either transition fully at 3,000 RPM, or gradually starting at 2,700 RPM. This allows you to find the sweet spot to get in and out of your neighborhood being considerate of others, and then experience the full manifestation of raw power once you are at higher RPM where you have the freedom to fully enjoy your car.
With the Exhaust Symphony System installed if you are already out driving your car, loud and powerful and you see an environment where having a car that sounds this good could present issues by drawing unnecessary attention, you can immediately switch the system to the ZEN mode at the flick of a button without needing to stop the car.
Production
Zen-Rage exhausts are not mass produced, but these custom valvetronic exhausts are hand built and tailored specifically to fit a selection of the world's finest and most powerful cars as well as stock / sports cars. Our driving principle was to take a fine dining approach to the production process rather than a fast food approach.
In the global search for the very best fabricator in this arena, we narrowed it down to a master craftsman with over 20 years' experience in custom engineered metal work so that we are able to deliver the very best product, engineered specifically for your car with the attention to detail you would expect from a master craftsman.
Stainless Steel
There are over 150 different types of stainless steel produced, and we selected 304 Stainless Steel which falls into the 300 series which as defined by the American Iron and Steel Institute (AISI), is an austenitic iron-chromium-nickel alloy. Classified in order of the percentage of contents for each element, it is 74% iron, 18% chromium, and 8% nickel, and this low carbon alloy is classified as austenitic because of the austenite crystalline structure is possesses which makes it a non-magnetic alloy.It is found in a wide range of applications from cutlery to architecture to tanks because its strength, formidable resistance to corrosion, and its ease of fabrication and weldability. The percentage of the additional elements used in the production of this alloy also give it its other name of 18/8.
Titanium
We selected Grade 1 titanium because is light weight, easy to work with and because of its formability and weldability, so it is ideal for use in the creation of your Zen Rage exhaust. Similar to stainless steel there are different types of titanium produced, and the American Society for Testing and Materials ASTM details 40 variations of titanium across 38 grades, and Grade 1 which is also known as commercially pure is able to withstand extensive deformation before the metal ruptures or loses toughness. This is an essential element as our fabricator custom builds your exhaust to follow every curve in the path from your engine to the back of your car.
Product